Solo travelers, I feel your pain. Even though I am settling into a mostly comfortable routine of eating alone nearly every meal, sometimes other people make it much harder than it needs to be.
Saturday is a good example.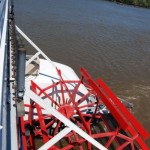 Finally with the time to check out a riverboat, I opt for a lunch cruise on the Celebration Belle, a paddle-wheeler replica whose paddlewheel is strictly for show. I would have preferred a non-food cruise, partly because the food usually sucks on these cruises, and partly because I had just eaten a yummy waffle breakfast a mere two hours earlier at the Belgian Cultural Center. But, I am feeling impatient about getting on with things today and heading home, so the lunch cruise seems like my best option.
As I board the boat the captain says "Welcome aboard, Mr, Klinkenberg. You are at table 8 on the second level." A bad feeling stirs deep within me and thoughts race through my head: No one told me that I would be assigned a seat; I don't really feel like being social; I just want to ride the damn riverboat and see the views; I'm not even hungry; I could probably skip lunch; Who will I be forced to share a table with?
With some time to kill before we shove off, I decide to wander about the boat before deciding what to do about lunch. The boat has two upper levels with a gift shop, naturally, and lots of open deck space, many choice spots for river watching. It is a sunny day and the boat has few shaded spots, so I am glad I finally had the presence of mind to buy a hat, one colored with genuine Mississippi Mud, at that.
Deciding that I can probably eat a few bites then tactfully excuse myself, I descend to the second level and enter the dining room to search for my table and lunch companions. As soon as I enter the dining room, foreboding overtakes me, triggered by another surprise –our lunch buffet has musical entertainment. The performance I am witnessing is not comforting – corny songs, synthesizer music straight out of a bar mitzvah, performance intensity that ranges from comatose to zombie-ness. Maybe this is penance for some past life transgression – being forced to sing covers of corny songs to old people and newlyweds. This is very close to my personal concept of hell. If the buffet was filled with iceberg lettuce, ranch dressing, and large casseroles of cream of mushroom soup and ground beef topped with canned crispy onions, my nightmare would be complete.
Once I regain my composure, I start scanning the room for my table assignment. I keep creeping uncomfortably close to the middle of the action, until I finally find table 8 sandwiched between the stage and a large party of 12 celebrants at table 7. I glance at table 8 and see my name hand written on a card, then look around and notice that there are no other cards on the table. I have no lunch companions at all. I have been seated alone. At a large table. Next to the stage. I am, frankly, stunned. The possibility that I would be seated alone at a very large table never occurred to me. I feel increasingly self-conscious. It isn't enough for my solo presence to whisper "I am an eccentric, single traveler." No, the boat crew decided my solo presence must scream "I AM SUCH A LOSER I CAN'T FIND EVEN ONE FRIEND TO BE MY COMPANION ON A CORNY FAKE RIVERBOAT CRUISE!"
I sit down as nonchalantly as I can muster, then a server comes over to take my drink order. "Can I get a glass of water and a cup of coffee, please?" "The water is bottled and costs $1.50", he replies. "Is that OK?" I just paid $28 for a lunch cruise and they can't supply free water, I think to myself. "No thanks." I reply. "The coffee is decaf. Sorry, we have a lot of old people here." I pass on the decaf, too. Lucky for me, they have ice tea. I don't bother to ask if it is decaf, too.
"I would like to dedicate this next song to Tim and Julie who are celebrating their sixth anniversary", deadpans the singer just before lurching into another forgettable ballad. I am wondering to myself if anyone really likes this crap, when an older woman wanders in front of the singer and starts gyrating, smiling at the singer as if to say "I may be old and look silly, but I don't look as ridiculous as that loser eating lunch alone." I return to reading the paper I brought with me, trying to ignore all that is happening around me. Because the cruise is not crowded, even on the Saturday before Labor Day, it is not long before I get to take my place in the buffet line. Not being terribly hungry, I take modest servings of three bean salad, fruit salad, a creamy noodly thing, and a bite size piece of chicken, which is the only serving size they offer. Honestly, the food is much better than I expected.
As I am eating, the music tempo gets more upbeat and the song is unfamiliar. This doesn't sound like Puppy Love. I reflexively look up at the singer. She has perked up and her voice has a resonance that I have not heard to this point. I suddenly see a lot of Bonnie Raitt in her and feel a newfound respect. In another setting, a late night bar layered with the smells of stale cigarettes, cheap beer, and cheaper perfume, she might be a good listen. She catches me watching her and winks. I smile in return.
As soon as my plate is empty, I leave the dining room and head outside to explore the views, grateful to be out of Hell. The rest of the cruise is not too bad. The views from the boat are good, and I get to see the Quad Cities from a new perspective, even though our cruising range is limited to the eleven miles between Locks 15 and 14.
While we were on deck, two different times someone came over to say hi and chat with me. Maybe they were just being nice, maybe they felt sorry for the loser sitting alone next to the lounge singer. Whatever the reason, this solo traveler appreciated the thoughtfulness. Too bad the Belle did not match their effort.
Bad Decision of the Day: Lunch cruise. I should have waited a couple of hours and taken the sightseeing cruise financed through auto loans for a lot less money and pain.
© Dean Klinkenberg, 2007